Do you need help with your science project?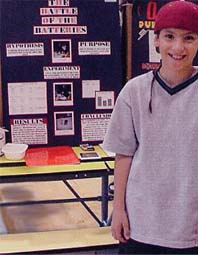 Greenspan's science project guide will help you write a paper, make a display, and prepare a presentation. You might even enter your project in the science fair. You will find help with:
Good luck on your science project, and hope this has been of help to you.
What Exactly is the Scientific Method Anyway?

-- Back to top of page --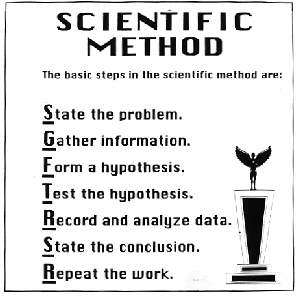 Before you start any science project, we suggest that you make sure you have a clear understanding of the scientific method. This section will take you step by step through the paces.
"This section uses examples to illustrate and explain the basic steps of the scientific method. The scientific method is the "tool" that scientists use to find the answers to questions. ... The scientific method involves the following steps: doing research, identifying the problem, stating a hypothesis, conducting project experimentation, and reaching a conclusion."
An explanation of the scientific method can also be found here. Scientific Method requires Flash it has a video that explains the scientific method to you.
-- Back to top of page --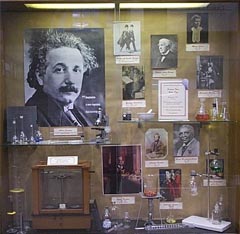 These sites offer really great ideas that will help you come up with your own ideas for your science project.
"Here, we've put together a few basic ideas of agricultural science projects you can do. Use these ideas as a jumping-off place for coming up with your project."
CyberFair allows you to "Take … ideas, and add something of your own. For example, change Are Dogs Colorblind to Are Cats Colorblind? Or look at another of the 5 senses of dogs, and test their sense of taste."
Getting Started includes: "Steps to choosing a topic, and listings of topics by subject areas. Great place to get ideas for your project!"
Newton's Apple is an award-winning national science program. Click Try This At Home, and try one of the science projects listed there.
Science Fair Central offers ideas from different topics including plants, animals, and Insects.
-- Back to top of page --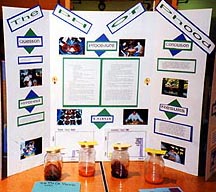 Here are some actual science fair projects to give you some ideas of what you can do.
Bill Nye The Science Guy requires Flash. It has 40 projects to choose from. Click on Home Demos, and select an experiment.
Exploratorium has projects you can check out.
Reeko's Mad Scientist Lab has experiments from Reeko's bag of tricks.
Science Club projects range from simple, medium, and advanced projects.
Science Made Simple is a site where you can "Get fun science projects & great experiments using household materials. ... Get answers to these common science questions: Why do leaves change color in the fall? Why is the sky blue? ... How do animals spend the winter?"
Sample Projects has science projects done by 7th grade students.
Thinking Fountain is a site that gives you experiments on paper making, building spaghetti structures, mold, and making a square bubble.
Virtual Science Fair has examples of science projects from the kids of the Park Maitland School in Florida.
-- Back to top of page --
Do you need some resources to help you out? This is a good place to start. If you are still having trouble, and you think you need to ask an expert, you can do that here.
Animal Diversity Web allows you to select an animal, and the animal's traits, behavior, environment, pictures, sounds, and additional information about the species are given.
Botanical Encyclopedia and Dictionary " ... provides information regarding the general description of the plants, the various methods of cultivation, such as indoor or outdoor planting, soil and temperature requirements, pruning, and other important details, the means of propagation (seeds, cuttings, division, etc.), and the different varieties and hybrids."
Biology4Kids includes biology basics to help you with your project.
Chem4Kids contains valuable basic chemistry information on: elements, atoms, math, and reactions.
Cyber Fair will help you to come up with your own science fair project, and it explains the difference between good projects and bad projects.
Discovery Channels School Science Fair Central is a comprehensive guide to science fair projects.
EurekAlerts Reference Desk has dictionaries and scientific glossaries created and maintained by scientific and academic groups.
Experimental Science Projects provides links and an example of an experiment-based project.
Geologic Time Line is a time chart of when humans and different animals appeared on the Earth.
Geology Wing takes you on a journey through Earth's history.
Kids Guide to Science Projects has different ideas and resources. It will show you how to get started, and take you step by step through the process.
MADScientist Library has more links to recommended sites.
Nine Planets is "An overview of the history, mythology, and current scientific knowledge of each of the planets and moons in our solar system. Each page has text and images, some have sounds and movies, and most provide references to additional related information."
Periodic Table of the Elements allows you to click an element, and gives you information about the element.
Physics4Kids teaches you basic physics.
Resources This is a list of resources for different scientific fields that might interest you.
Science Project Guidelines is a good place to go for advice and ideas from the scientists at the Kennedy Space Center.
Science Terminology Glossary is a glossary of scientific terms used in Reeko's Mad Scientist Lab. "
Scorecard provides detailed information on more than 6,800 chemicals, including all the chemicals used in large amounts in the United States, and all the chemicals regulated under major environmental laws. You can search for information by typing in the chemical's name ... For the 650 chemicals covered by the Toxics Release Inventory (TRI) in the United States, Scorecard lets you identify which are released or managed in the greatest quantity in your area."
Successful Science Projects offers advice for your project.
The Ultimate Science Fair Resources has resources and advice.
Unit Conversions is a simple and useful tool to make conversions between different measurements easy.
Zoom Dinosaurs "… is a comprehensive on-line hypertext book about dinosaurs. It is designed for students of all ages and levels of comprehension. It has an easy-to-use structure that allows readers to start at a basic level on each topic, and then to progress to much more advanced information as desired, simply by clicking on links."
-- Back to top of page --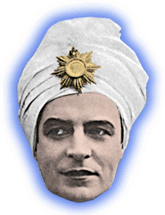 First check out the site's archives to see if your question has already been answered. If it hasn't been answered, then ask an expert. "
Ask-A-Geologist questions are answered by USGS employees, retirees, and contractors who have volunteered to participate in the project. ... Their job titles include geologist, hydrologist, cartographer, and technician. Their experience ranges from recent college graduates to senior scientists with more than 30 years experience." "
Ask an Expert connects you with hundreds of real world experts, ranging from astronauts to zookeepers. These experts have volunteered to answer your questions for free!"
Ask a Scientist at Washington University any scientific question you might have.
Ask Dr. Math is a question and answer service for K-12 math students and their teachers. A searchable archive is available by level and topic, as well as summaries of Frequently Asked Questions.
Janice VanCleave, nationally-known science fair expert, has written over 45 popular books on science fair topics, projects and participation. Now you can search the "Janice VanCleave Science for Fun Question and Answer" database for information on specific topics."
Science Net has scientists who can answer your questions. There is even a database of questions and answers, and a staff of scientists that will answer any questions you might have that are not in the database.
-- Back to top of page --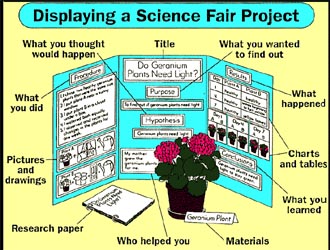 These tips will give your science project the finished look it needs.
Charts and Graphs "… gives hints on which graph or chart is the best for your data and gives examples of graphs."
How to Display Results has it all. '
Science Fair Centrals Display Section has useful tips. '
Science Fair Centrals Presentation and Evaluation tells you what a Science Fair judge will look for.
The Science Fair Judging Sheet is a sample-judging sheet from a Science Fair. This will give you a clear example of what a judge is looking for.
For CD is for scientists and industry. It includes: Acid-Base Indicators, Composition and Physical Properties of Alloys, Conversion Factors, Periodic Table, Preparation of Acid-Base Indicators, Solubility Products at 25supo-supC, Standard Reduction Potentials, Warning Labels, Atomic Masses, Composition of Foods, Dissociation Constants for Common Acids and Bases, Preparing Buffer Solutions, Solubility Rules, Synonyms of Chemicals, Yamada Universal Indicator, Common and Trade Chemicals Names, Concentrations of acids and bases, Exponent Prefixes, Physical Properties of Woods, Selected Equilibrium Constants, and Synonyms of Minerals. Order